Innovation Grants
The Vision
The Ashintosh Foundation is the charitable focus of the University of Queensland Medical Society. It acts to benefit the community through its work in health promotion, and through support of charitable endeavours undertaken by UQ medical students and alumni. This cohort of people is known to be driven and have many unique ideas on how to benefit the community. However, many lack the funding to turn such ideas into action. Ashintosh Innovation grants aim to address this by providing funding to UQ medical students and Alumni who have a novel idea or project that requires support.
About the Grants
The Innovation Grant program is a new initiative of the Ashintosh Foundation and one which serves to give back to the medical student community by supporting students and alumni with a vision for a community project or initiative. Grants of $2000 will be awarded throughout the year, with the number of grants awarded and proportion of the $2000 awarded based on the quality of the application, at the discretion of the board of directors of The Ashintosh Foundation. Grants will be offered for a project to be undertaken by an individual or group during the year following the awarding of the grant. Applications for projects that will continue beyond the year, or require ongoing funding, are also welcomed and again will be considered, on a case-by-case basis, by the Board.
The focus of the funding will be for projects with potential for community benefit, with a particular focus on health. This does not preclude other applications, as all innovative project ideas are encouraged. Suitable projects include those being undertaken as part of elective placements during medical study.\
Eligibility
Applicants must be enrolled in the University of Queensland MBBS or MD program or be an alumnus of the UQ School of Medicine.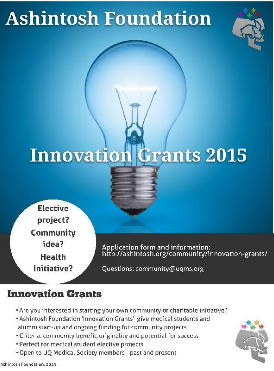 Applicants must also be current or past members of the University of Queensland Medical Society.
Criteria
Originality of the project
Community Benefit
Potential for success
Application Process
Applicants are required to submit a written application using the proforma below. There will be four funding and application rounds during 2016. These will be published here on the website once finalised. Applicants will be notified within 2-4 weeks of the outcome of their application.
Enquiries
Any queries, please contact Mitchell Cox (2016 UQMS Community Officer & Managing Director of Ashintosh Foundation) via our Contact Us form.